< /div>
UKC Rally 2

SleepyHollows Starstruck Voyage

Rally Novice, Canine Good Citizen; AKC Companion Dog

BISS CH SleepyHollows Beyond The Stars x CH Westhavens Sleepy Irish Cream ROM

Last updated: August 18, 2014
Trekkie is:

Mildly dysplastic hips (subluxation; remodeling of femoral head/neck) and Grade III elbows (degenerative joint disease). Her patellas are a Grade I (luxating, but return to normal). Trekkie is thyroid low .

Mahogany/white longhair (rought coat) with Black mask (from shorthair to longhair breeding)

Date of Birth : September 17, 2006

Trekkie's first week home (early November 2006)

It took a couple of weeks for the older "kids" to get used to Trekkie, but now they let her do just about anything....

When Trekkie came into season in February 2008, she spent a couple of weeks at "SpaLisa's". As you can see, it was *such* a chore for her to be there. Very stressful; and she worked *so* hard!!!  We are grateful to Lisa for allowing Trekkie to spend time with her during these days when she can't be home ...

Trekkie got a bath in Jan 2009 and I decided to take some pictures of her. She's a really pretty girl... just not quite what we're looking for as a show dog. Guess she'll just be our resident couch potatoe!!! Oh, and yes, this is really January in Colorado. 2009 is starting pretty warm!!!

CONGRATULATIONS TO TREKKIE!!

3 straight qualifying scores in Rally!! 94, 100, 97 (A perfect score is 100). January 2010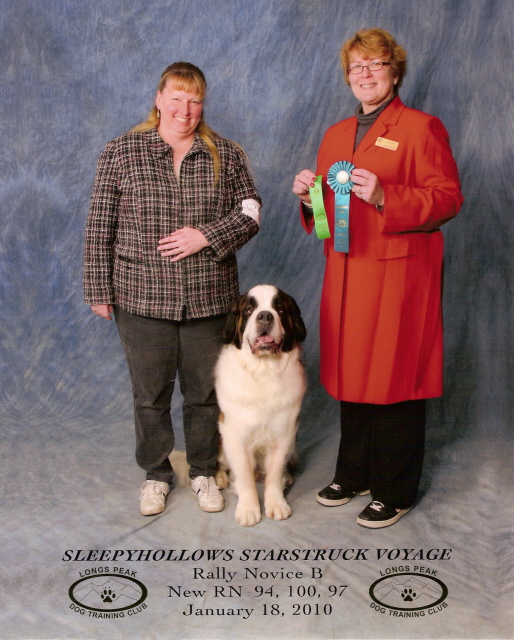 Trekkie is our beautiful Saint Bernard girl. She is related to our passed away boy Doozer. Although we think she is beautiful, she was not quite what we were looking for in the show ring and so we retired and spayed her. As soon as we started working with her in obedience and rally, though, we knew we had something! Trekkie absolutely LOVES rally (UKC and AKC) and while she doesn't love obedience quite as much she is an excellent working dog! Due to her bad hips and elbows, Trekkie will never compete in levels of rally or obedience where she has to jump. We are thinking of starting her in carting though....

Trekkie completes her UKC Rally 1 title! The next day she moved up to Rally 2 and not only qualified but placed FIRST IN HER CLASS!!! March 2011

Trekkie qualifies for two legs towards her AKC Companian Dog (CD)! Placing 2nd & 3rd. May 2011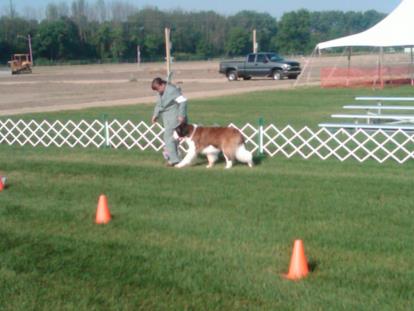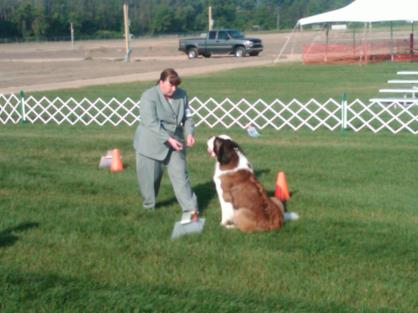 Trekkie competing for her UKC UR02 at the UKC Premier in Kalamazoo MI (June 2011)

VOYAGER DOGZ LLC

In Aurora, Colorado USA

Kathryn Kudron & Wilhelm Beckmann

est 1995

Trekkie in November 2012 - 6 years, 2 months